From Miles over at
BLAAAHG
:
What a busy Friday Night Richmond youth is going to have. When you get off work that day, know that tonight is going to be good. Anyone who still has a love for the summer, parties, and mayhem, is going to love August 1st. So, once you get off work, put some air in your tires, get your buddies together and ride your bike to Monroe Park (to the corner of Laurel & Main) for a sweet ass bike ride through the city with give-aways and prizes. And guess what, all the money goes to Ward & Shelly's Books on Wheels.

If you're not familiar with Book's on Wheels, then click here.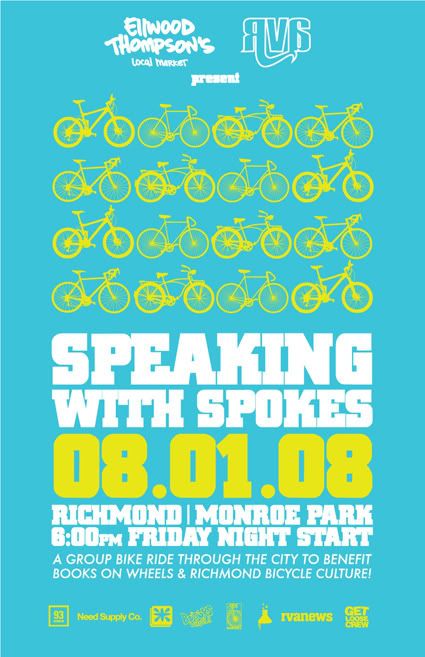 Check out the official site for more information.

And if you're curious, here's the route: 1.

Start at Monroe Park 6:0pm, and head up Main St. all the way to Lombardy.

2.

Take a right on Lombardy and head to Broad St., take a left on Broad St.

3.

Take Broad St. to Boulevard and take a left on Boulevard.

4.

Take Boulevard to Ellwood Ave. and turn right.

5.

Take Ellwood Ave. to Ellwood Thompson's Natural Market and meet up in the parking lot. Here you are gonna get drenched with FREE Ice Cold Vitamin Water to quench your thirsts, hooray for Vitamin Water and corporate sponsors. Once everyone is ready, ride through the parking lot and the Vitamin Water van (which has exterior speakers) will escort the riders down Carytown and Cary St.

6.

Take a left on to 2nd St. and take 2nd st. to Broad St.

7.

Turn left on Broad St. and ride through the First Friday's Art Walk.

8.

Turn right on to Henry St and ride over to Leigh St.

9.

Turn right on Leigh St. and end at the City Park, or end wherever you want.

After that's over, head to the Henry Gallery for this: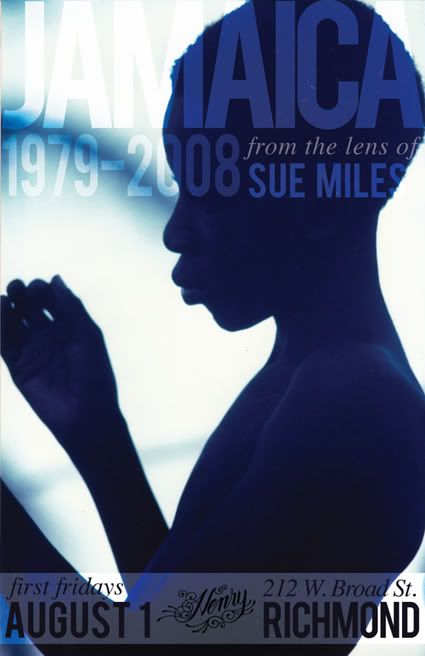 It's my mom's photography show. She lived in Jamaica in the late 70's and early 80's with the Peace Corps and took some amazing pictures while she was there and during her many trips back. The prints are affordable, and the Red Stripe and Music is FREE. And then to end the night, come help Richmond say goodbye to my main man Chopper. Chopper came up here from Norfolk, ran the scene, and now is headed back. He will be greatly missed. So help us burn down the basement Friday night...